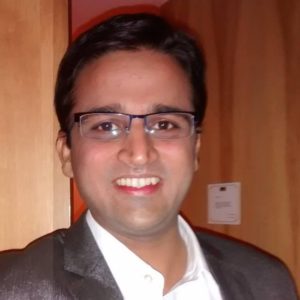 "Pediatric Smiles" –  Children's Dental Health Centre ( Pediatric Dental Clinic ) is located in Mumbai at Malad – Goregaon West which provides oral health care exclusively for infants, children and young adults. 
Dr. Mihir Shah is Gold Medalist in Pediatric & Preventive Dentistry (Dentistry for Children) from the Prestigious Nair Hospital Dental College, Mumbai (Maharashtra University of Health Sciences). He formerly worked as Assistant Professor at Government Dental College, St George Hospital CST Mumbai & Government Dental College, Nagpur. He works exclusively for the welfare of oral health amongst Children since past 9 years and is the Founder Director of Pediatric Smiles (Pediatric Dentist) – Children's Dental Health Centre, Mumbai. Child Friendly Environment, Primary Prevention & Comprehensive Dental Treatment in Children form the three most important pillars of our organization which one can visualize on the website. He believes that every Child has the fundamental right to have the Best Smile & It is our duty & virtue to preserve & protect each and every Smile. He is an author of Books for MDS Entrance Examinations & conducts lecture for them. He also conducts courses for Behaviour Management in Children & Clinical Pediatric Dentistry for General Dentists. He also conducts lectures & seminars for Oral Health Awareness amongst Pediatricians, School Children, Special Children and other Pediatric Health Care Providers.
Dr.Isha Angne has completed MDS in Oral & Maxillofacial Pathology from the prestigious Government Dental College and Hospital, Nagpur under Maharashtra University of Health Sciences. She specializes in diagnosis of Developmental Oral and Dental pathologies. She worked formerly as Registrar at R.N. Cooper Municipal Hospital Vile Parle, Juhu and Hinduhridaysamrat Balasaheb Thackeray Trauma Care Municipal Hospital Jogeshwari, Mumbai; where she gained experience in oral surgical procedures to treat maxillofacial trauma cases and tumors of oral cavity. Her keen interest in orofacial development of the child and orofacial growth related problems in children has led her to pursue a full time Pediatric dental practice and use of myofunctional appliances with conventional orthodontic  braces to treat the same in children and young adults. She enjoys working with children and her calm, friendly nature makes even an apprehensive child comfortable during dental treatment. She works actively to create awareness among Oral health care providers and Medical professionals about caries prevention and early intervention for prevention of malocclusion and for early diagnosis and prevention of oral cancer.
 Pediatric Smiles (Pediatric Dentist) Children's Dental & Myofunctional Health Care Centre
Our Mission is "Be Caries Free For Life"